Contact Our Cake Expert
We're Here To Help So Get In Touch
Contact Cakes By Úna
We're here to help make your wedding and celebration cake dreams come true. Úna's vast experience and expertise has allowed her to help hundreds of couples and families celebrate those special days in life. Please feel free to contact us at Cakes By Úna to discuss your cake.
Contact us by phone, email or by completing the online form, or arrange an appointment at our state-of-the-art bakery and showroom. We look forward to working with you.
Pre-Booked Appointments:
Main Street, Ballymahon,
 County Longford, N39 A260
Our Cakes
Whether it is a Wedding or a Special occasion, we can create the perfect cake to suit your big day. As well as looking stunning, our cakes will be equally good to taste, as they are individually baked and carefully decorated to the highest standards. Many of our cakes have received national and international awards, both gold and silver. If you are looking for some inspiration, take a wander through our gallery of cakes made for others.
At Cakes by Úna, we believe that the design and creation of your wedding cake should be an enjoyable blend of personal taste and skilled expertise. So with this in mind, we work closely with you to create your unique design which will be a treasured focal point on your special day.
Whatever your occasion, we are happy to work with you to design and produce a celebration cake which is pleasing and personal to you. Whether it's a Christening, First Communion, Confirmation, Anniversary or Birthday, our cakes will greatly enhance your celebration.

Wedding Cake Deposits
We need at least three months' notice for us to arrange your beautiful wedding cake. If you are getting married at peak wedding times, then six months' notice is advisable.
Once everything is agreed you need to pay your €50 booking deposit. This secures your date and is non-refundable and non-transferable. The balance of payment is required one week before your wedding.
Pay your wedding cake deposit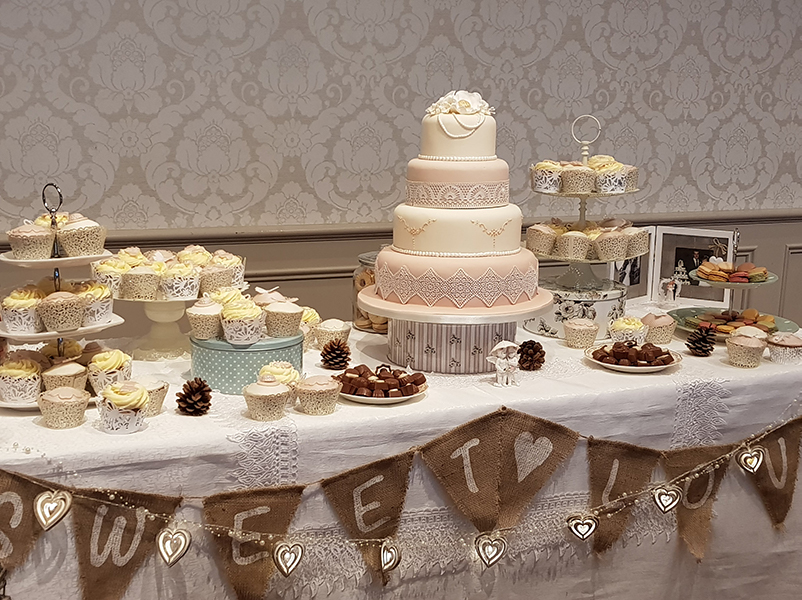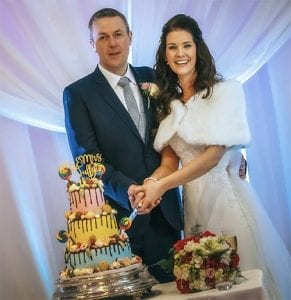 Helen & Fintan
'If you are looking for delicious cakes for any occasion then Cakes by Úna is your only stop! In our case we were looking for someone who could create an unusual wedding cake and Úna delivered on this 100%. Her wonderful creation stole the show on the wedding day.
Úna carried out her work with no fuss, despite wedding date changes due to Covid restrictions. Her attention to detail is second to none. To anyone planning a wedding we would highly recommend Cakes by Úna'.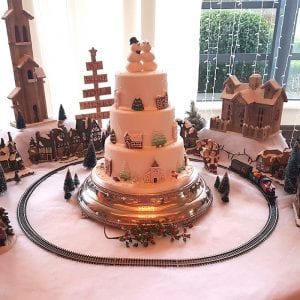 Kate & Brian
'
A huge thank you to Cakes by Úna for the time and effort involved in creating the wedding cake of our dreams.
Our cake was simply stunning and tasted even better. The cake décor was all handmade and edible, the design incredible and our cake became the focal point in the ballroom.
Such amazing work! We highly recommend Cakes by Úna'.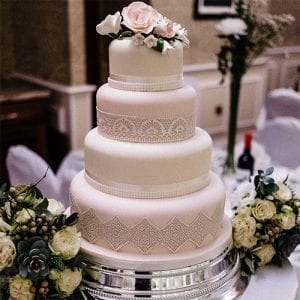 Deborah & Joe
'From the planning discussion to the serving on the big day, Cakes by Úna did not disappoint!
Úna really listened to what we wanted, and came up with suggestions that absolutely hit the mark! Her final creation was spectacular. The biscuit cake was utterly delicious and we could not have found a better fruit cake anywhere else.
We cannot recommend Cakes by Úna highly enough'.